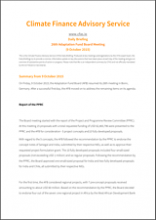 From 9-10th April 2015, the 25th meeting of the Adaptation Fund Board (AFB), the operating body of the Adaptation Fund, will take place in Bonn, Germany. In the two days prior to the meeting, the Board members will convene in their respective committees: the Ethics and Finance Committee (EFC) and the Project and Programme Review Committee (PPRC).
The 25th AFB meeting will start with the transition to the new chair and vice-chair and the new EFC and PPRC chairs. Afterwards, the AFB will deliberate on the recommendations of the Accreditation Panel. The Accreditation Panel (AP) is in charge of the accreditation of National, Multilateral and Regional Implementing Entities. According to the recommendations of the AP, the Board will have to approve the accreditation of one National Implementing Entity (NIE) Fundaciòn Natura Panama and the approval of applicant NIE039 as Small National Implementing Entity (SNIE) for accreditation under the Streamlined Accreditation Process, provided the AF Board approves the decision on streamlined accreditation process.
Streamlined Accreditation Process for small entities will be one of the milestones of this meeting. This process is based on experience gained by the AP in considering options to accredit small entities through a streamlined process: This takes into account compensating measures, controls and practices commonly used by small entities, while ensuring that the small entity applicant meet the fiduciary standards and does not expose the AF to any kinds of risks. The Board will also be requested to reaccredit the three first entities accredited by the Fund, as their five-year term is ending this year.
Secondly, the AF will have to decide, based on the recommendations of the PPRC, on the potential approval and endorsement of nine projects and concepts, all sub-mitted for this meeting.
The EFC will consider among others, the financial report by the Adaptation Fund Trust fund. Other issues such as the Evaluation of the Fund, the Complaint handling mechanism and Implementation of the code of conduct are announced in the agenda to be considered at the this meeting. However, there is no secretariat document for this on the agenda item.
Last but not the least; the Board will discuss the remaining agenda item of the last board meeting. The prominent ones are the document on the second phase of the readiness programme and the potential linkages of the AF with the GCF.
On readiness, the discussion will be centered on the activities to be undertaken in the second phase, based on the lessons learnt in the first phase. The paper on po-tential linkages presents a range of options that the AF could take into account, when considering potential linkages between the AF and the GCF.