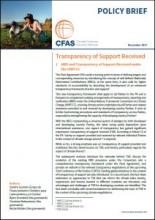 The Paris Agreement (PA) marks a turning point in terms of defining targets and corresponding measures by introducing the concept of self-defined Nationally Determined Contributions (NDCs); at the same time, it also calls for higher standards of accountability by launching the development of an enhanced transparency framework of action and support.
This new transparency framework shall apply to all Parties to the PA and is foreseen to complement existing arrangements of measurement, reporting and verification (MRV) under the United Nations Framework Convention on Climate Change (UNFCCC), covering climate action undertaken by all Parties and related assistance provided to and received by developing country Parties. It aims at further harmonizing procedures and standards of transparency across Parties, especially by strengthening the capacity of developing country Parties.
With the NDCs representing a universal system of pledges by both developed and developing country Parties, the latter being partly dependent upon international assistance, one aspect of transparency has gained significant importance: transparency of support received (TSR). According to Article 13 of the PA "clarity on support provided and received by relevant individual Parties in the context of climate change actions" is required.
While so far, a strong emphasis was on transparency of support provided and mobilized, this policy brief focuses on TSR, and hereby particularly regards the aspect of climate finance.
The subsequent sections introduce the rationale behind TSR, discuss the evolution of the existing MRV provisions under the Convention into a comprehensive transparency framework under the Paris Agreement, and provide an outlook to the relevant transparency negotiations at the upcoming 23rd Conference of the Parties (COP23). Existing global initiatives in the context of transparency of support are also introduced. In a second part, the policy brief elaborates on approaches to TSR that can inform the climate talks; hereby, experiences and lessons learned in different countries are discussed, and advantages and challenges of TSR for developing countries are identified. The policy brief concludes with recommendations for addressing the topic of TSR in the context of the upcoming climate negotiations.